Sickie Update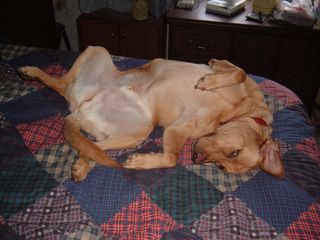 Our Hairry Potter
I took this picture this morning as an indication of how my recovery is coming. For the first time in 4 days, Hairry decided it was safe to kick back and relax. Hairry has had to be in CONSTANT physical contact with me since I got back from the doctor on Friday. His behavior puzzled me until I looked at my prescription history on the prescription I got on Friday. The last time I had a prescription filled was 2/01. This was 9 months before Hairry was born. Hairry had NEVER seen Mom sick before, and it worried him.
Things are definitely looking up today. I woke this morning to find that the fog had finally lifted from my brain. This is probably due to the fact that I can now take deeper breaths and actually get some air to my brain. I had planned on returning to work today, but after yesterday, I decided to stay home today. I did laundry yesterday and got dizzy and winded just sorting the laundry. Not a good thing.
The weather is actually a cool 65 degrees today! This is supposed to change tomorrow, but I'm enjoying it today. L and Z did an admirable job of cooking over the weekend. They even cleaned up their mess!
Z is totally well and L still has a stuffed up head. He'll probably live, but then. . . .
Thanks everyone, for the concern and the sympathy over dealing with sick men.
L picked our Harry Potter up from the post office this morning. The postmistress said that she expected us to pick it up on Saturday. WTF? Amazon said they mailed it on Friday! They must have had a glitch in their email notifications. So it looks like we DID get the book on time. SO THERE SME, we had it first after all, nyah!! L managed to read 100 pages before he went to work.
I was going to reread the other 5 books first, but I think I'll take Squirl's advice and dive right into 6 while L is at work. I can always reread everything later.