HAPPY BIRTHDAY SME!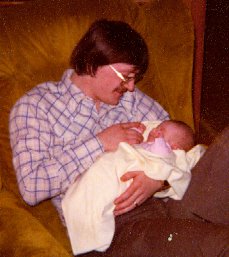 New Year's Baby 1978 & Her Daddy
28 years ago, you made us a real family. 14 years later we thought your brother completed our family. Little did we know how much MORE love you would bring to us with Doug and the kids!
Dad and I will always remember how much fun we had the night you were born. BTW, 28 years ago it was -43F. Tonight it is +33F.
You have always been our gentle soul. You taught us all so much about love!
We're so proud of the beautiful woman you have become, gray hair and all!
WE LOVE YOU SWEETIE!!
Mom, Dad, Z-kid, & Hairry