What a Fine Mess!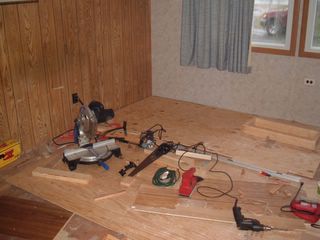 Cozy Bedroom?
Welcome to our boudoir!
We MUST finish this project and move our bed back where it belongs before I kill my poor husband! I've always slept on the right side of the bed since we moved into this house. My alarm clock is on my nightstand, also on the right side. Our bed is now in our living room and I'm sleeping on the left side. My alarm clock is on an end table at the end of the bed. When my alarm rings at 4:55 a.m., I swing my arm over to the right to smack off the alarm clock. Unfortunately, my husband is now where my alarm clock SHOULD be. Enough said?
I've been removing trim, and idiots with air nailers are my worst enemy! It's WAY too easy for a bozo with an air nailer to quickly shoot 20 nails into something when 3 or 4 will suffice. I removed a 1/2 inch wide, 7 foot long piece of trim with 32 nails shot into it; 6 of them were in the top 3 inches of the piece! I'm SURE that I'll use no more than 5 small finish nails to rehang this piece, but I'll still have to fill the other 27 unnecessary holes! I'd LOVE to get my hands on one of these so called professionals and choke them with their own air hose!!
I received a manilla envelope in the mail today from our local school district. NOW WHAT? I was AMAZED to find a homeschooling packet in the envelope. Does this mean that they finally realize that Z is homeschooled? Time will tell!